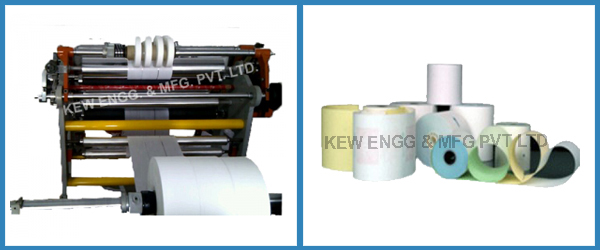 Description
Unwinder Rewinder Machine with Web Guiding System for all Paper Flexible Packaging Converters generally requires making the smaller diameter rolls from Jumbo Rolls to shift smaller Rolls to different applications. Slitting may or may not be required for this application, which can be provided optionally. In our Unwinder Rewinder Machine  from the Unwinder the Rolls goes into inspection & Tracking System and then the Roll goes into Rewinder System which is operated by Motor & Drive. We also manufacturer Paper Slitter Rewinder Machine for jumbo or small roll to roll rewinding.
Our comes with Web Aligner System, which controls the edge of the Rewinded Roll. Slitting Rewinding of Roll is optional. If required, slitting Operation can be incorporated in the for Slitting of Rolls. However, Slitting will be for 2 or 3 maximum width rolls only.
We have been successfully Manufacturing, Exporting & Supplying all types of Unwinder Machine & Rewinder Machine with Web Guiding System since last 25 years from Ahmedabad, Gujarat, India. With more than 1400 installations all over India and overseas like Saudi Arabia, UAE, Dubai, Sharjah, South Africa, Nigeria, Ghana, Congo, Kenya, Zambia, Sri Lanka, Bangladesh, Malaysia, Pakistan, Nepal, Russia, Thailand, Indonesia, Brazil, Colombia, Venezuela, Argentina, Mexico, Canada, etc.We are winner of 3 times National Award and 2 times International Award for Quality manufacturing.
Standard Features
Unwinder Rewinder Machine with Web Guiding System
Slitting of all types of material like Plastic, Paper, Flexible Packaging, PVC, Aluminum Foil, Stretch Film, LDPE Film, BOPP Film, BOPP Tape, OPP, METPET, Pet Film, OPA, Non-Woven Fabric, Paper Board, Adhesive Tape, Film Ribbon, Textile Cloth, Nylon Fabric, Micro Tape, Coated Paper, Ice Cream Cup Paper, Fax Roll, Laminated Film, Cling Film, Duct Tape, Mask Tape, Rubber, Tarpaulin, Tube, etc. makes us most experienced manufacturer, exporter & supplier of Slitter Rewinder Machine.
OPTIONAL ATTACHMENTS FOR UNWINDER REWINDER MACHINE WITH WEB GUIDING SYSTEM:
Auto Tension Control System for Unwind Unit
Digital Line Edge Guide System
Web Edge Guide System (Hydraulic / Digital Ultrasonic)
Pneumatic system for Arm / Clutch / Brake / Nip
Air shaft for Unwind Station & Rewind Station
Safety chucks at Unwinder Station
Bow rollers or Banana Roller for Wrinkle Free Workin
Four motor synchronized drive
Our machine is an ultimate Unwinder Rewinder Machine for its accurate slitting and rewinding qualities. It ensures perfect slitting of rolls with consistent, flawless results and constant line speed. It is available in adaptable model to suit your requirement. Our Slitter Rewinder Machine is available in Rewinder, Duplex surface slitter and Rewinder and Cantilever differential slitter and Rewinder. Our Unwinding Rewinding Machine is renowned for its accurate slitting at a higher speed and vibration less working.
KEW Slitter Rewinder Machine ensures perfect slitting of rolls with consistent flawless quality and constant line speed. It is available in adaptable model to suit your requirement.
Technical Specification
Technical Specification of Unwinder Rewinder Machine with Web Guiding System
| | | |
| --- | --- | --- |
| Web width | : | 300 to 1500 mm |
| Maximum Diameter Of Stock Roll | : | 600 – 1000 mm (1200 mm – 1400 mm Optional for Heavy Duty Model) |
| Maximum Diameter Of Finished Roll | : | 400 to 600 / 1000 mm / 1200 mm – 1400 mm (Optional for Heavy Duty) |
| Operating Speed | : | 150 M/min |
Video
Quick Inquiry