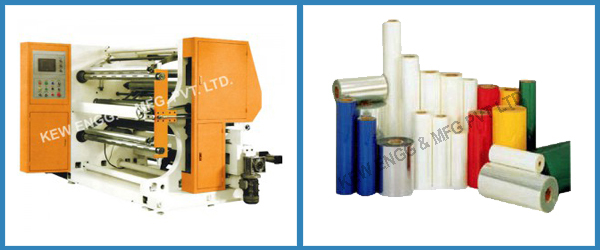 Description
KEW Duplex Shaft Automatic Slitter Rewinder Machine is a Cantilever Type which incorporates a range of superior design feature that ensures the highest possible quality for the final split roll Independent rewind tension control through non-contact ultrasonic techniques for diameter measurement and unique core lock for differential slip at running speed. The design incorporates the three motor control system & unwind pneumatic brake with load cell feed brake Digital Edge/line guiding to achieve high-speed correction. Our Automatic Slitting Rewinding Machine comes with options of 2 Drive, 3 Drive or 4 Drive Systems. Also, we are manufacturer of Rubber Roller for flexible packaging industries.
We have been successfully Manufacturing, Exporting & Supplying all types of Automatic Slitting Rewinding Machine since last 25 years from Ahmedabad, Gujarat, India. With more than 1400 installations all over India and overseas like Saudi Arabia, UAE, Dubai, Sharjah, South Africa, Nigeria, Ghana, Congo, Kenya, Zambia, Sri Lanka, Bangladesh, Malaysia, Pakistan, Nepal, Russia, Thailand, Indonesia, Brazil, Colombia, Venezuela, Argentina, Mexico, Canada, etc. We are winner of 3 times National Award and 2 times International Award for Quality manufacturing.
Standard Features
Automatic Slitting Rewinding Machine
Slitting of all types of material like Plastic, Paper, Flexible Packaging, PVC, Aluminum Foil, Stretch Film, LDPE Film, BOPP Film, BOPP Tape, OPP, METPET, Pet Film, OPA, Non-Woven Fabric, Paper Board, Adhesive Tape, Film Ribbon, Textile Cloth, Nylon Fabric, Micro Tape, Coated Paper, Ice Cream Cup Paper, Fax Roll, Laminated Film, Cling Film, Duct Tape, Mask Tape, Rubber, Tarpaulin, Tube, etc. makes us most experienced manufacturer, exporter & supplier of Slitter Rewinder Machine.
Air shaft for 76mm core. At unwind with Safety chuck Max. Reel weight 1000kg
Imported pneumatic tension control with load cell
Type of slitting: Razor in groove/circular rotary slitting system
One full width capacity grooved roller
Trim removal system: 2 HP blowers with full width Pipe for trimming along with a trim Injector unit
Quick and easy system for change over from one slitting mode to another and from one slit width to another
One full width capacity hard chrome plated steel roller of 150mm diameter
One full width capacity rubber roller of 150 mm diameter
Pressure is pneumatically applied from the operation side of the machine
Type of Rewinding: Duplex Cantilever Differential Winding
With pneumatic pressure to maintain slip edge of rewind roll through digital E/P converter with indicator and Ultra-sonic sensor to maintain rewind dia Quick lock unit for rewinding \ pneumatically controlled lay on roller operator friendly remote control panel provided at rewind for electrical and pneumatic system
Assembly fitted on top of the rewind shaft to indicate the position of new core to get exact finish size on every roll change over
OPTIONAL ATTACHMENTS FOR AUTOMATIC SLITTER REWINDER MACHINE:
Circular knife attachment
Differential Ball Shaft Pneumatically Control for Rewind Shaft
Servo Drive & Motors
Our machine is an ultimate Slitter and Rewinder Machine for its accurate slitting and rewinding qualities. It ensures perfect slitting of rolls with consistent, flawless results and constant line speed. It is available in adaptable model to suit your requirement. Our Slitting Rewinding Machine is available in Rewinder, Duplex surface slitter and Rewinder and Cantilever differential slitter and Rewinder. Our Slitting Rewinding Machine is renowned for its accurate slitting at a higher speed and vibration less working.
KEW Slitting Rewinding Machine ensures perfect slitting of rolls with consistent flawless quality and constant line speed. It is available in adaptable model to suit your requirement.
Technical Specification
| | | |
| --- | --- | --- |
| Max. Working width | : | 800 to 2000 mm |
| Unwind Diameter | : | 1000 mm |
| Rewind Diameter | : | 500 |
| Min. Slitting width | : | 50 mm |
| Machine speed | : | 300 – 500 M/min |
Video
Quick Inquiry