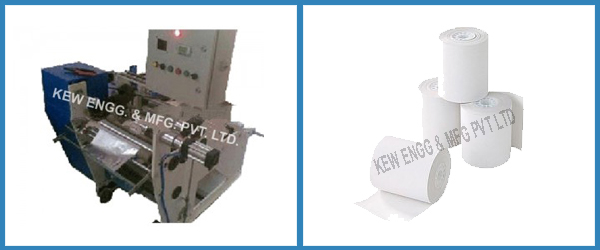 Description
We manufacture and offer a wide range of Thermal Paper Slitting Rewinding Machine that is precisely designed and constructed to meet the standards that effectively meet the requirements of Fax Roll. We offer Thermal Paper Slitter Rewinder Machine is provided with razor cutter arrangement and can slit up to 50 mm width. This is the High-Speed Automatic Tape-Less Slitter Re-winder machine for slitting the Thermal Paper Rolls, ATM Rolls, and POS Rolls etc. Also, we are manufacturer of Rewinder Unwinder System for widest converting industries.
The machine has High-Speed up to max 240 mpm. This Tape Less slitter re-winder can cut the Thermal & Plain paper from 40 GSM-200 GSM with Fine Edge finishing. The rolls are slit & Re-wind on a single shaft (like 5-8 rolls in single shaft) and will separate easily. This is a very efficient machine for Fast Production. This machine can cut 60,000-70,000 paper thousand meters in 8 hours. The cutting procedure is done by Rotary Cutter blade (Top & Bottom).
Application of machine: for THERMAL PAPER ROLL, ATM ROLL & POS ROLLS etc.
We have been successfully Manufacturing, Exporting & Supplying all types of Thermal Paper Slitting Rewinder Machine since last 25 years from Ahmedabad, Gujarat, India. With more than 1400 installations all over India and overseas like Saudi Arabia, UAE, Dubai, Sharjah, South Africa, Nigeria, Ghana, Congo, Kenya, Zambia, Sri Lanka, Bangladesh, Malaysia, Pakistan, Nepal, Russia, Thailand, Indonesia, Brazil, Colombia, Venezuela, Argentina, Mexico, Canada, etc. We are winner of 3 times National Award and 2 times International Award for Quality manufacturing.
Standard Features
Thermal Paper Slitting Rewinding Machine
FEATURES OF THERMAL PAPER SLITTING REWINDING MACHINE:
Sturdy Frame
Excellent Output
Fully Automatic Operations
Noise Less Drive
PLC Drive (Germany) Touch Screen Control Panel
Rotary Cutters
Huge Production
Nip Roller with Pneumatic Cylinders
Finest Cutting
Slitting of all types of material like Plastic, Paper, Flexible Packaging, PVC, Aluminum Foil, Stretch Film, LDPE Film, BOPP Film, BOPP Tape, OPP, METPET, Pet Film, OPA, Non-Woven Fabric, Paper Board, Adhesive Tape, Film Ribbon, Textile Cloth, Nylon Fabric, Micro Tape, Coated Paper, Ice Cream Cup Paper, Fax Roll, Laminated Film, Cling Film, Duct Tape, Mask Tape, Rubber, Tarpaulin, Tube, etc. makes us most experienced manufacturer, exporter & supplier of Slitter Rewinder Machine
Technical Specification
Technical Specification of Jumbo Roll Slitting Rewinding Machine:
| | | |
| --- | --- | --- |
| Web width | : | 550 mm (20W) |
| Unwind Reel Dia. | : | Up to 1000 mm (Max.) |
| Finished Roll Dia. | : | Up to 400 Mtr. |
| Core I.D of Rewind Roll | : | 12.7 mm, 19.05 mm – 25.4 mm |
| Core I.D of Unwind Roll | : | 76 mm (3m) |
| Design Speed | : | 150 – 200 M/mm |
| Substrate | : | For Slitting Thermal Paper |
| Power | : | 5 HP AC Motor (ABB) |
| Control Panel | : | 5 HP AC with Digital Drive |
| Cutting System | : | Rotary Score Cutter (Male + Female) |
| Lay-on Unit Control | : | Pressure of Lay-on Unit controlled by Pneumatic Cylinder |
| Web Tension | : | Cross movement by hand wheel |
| Brake | : | Heavy Duty Brake |
| Paper Insertion | : | Automatic without tape |
Video
Quick Inquiry