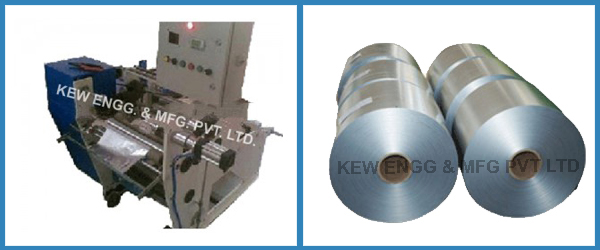 Description
We manufacture and offer a wide range of Aluminum House Foil Slitter Rewinder Machine that is precisely designed and constructed to meet the standards that effectively meet the requirements of foil cutting. We offer Aluminum House Foil Slitter Machine from 9 microns to 40 microns. The machine is provided with razor cutter arrangement and can slit up to 50 mm width. Also, we are manufacturer of Bow Roll, Banana Roller for flexible packaging industries.
KEW manufacturers, exports & supplies highest number of Slitting Rewinding Machine from Ahmedabad, Gujarat, India, with more than 1400 installations all over India and overseas like Saudi Arabia, UAE, Dubai, Sharjah, South Africa, Nigeria, Ghana, Congo, Kenya, Zambia, Sri Lanka, Bangladesh, Malaysia, Pakistan, Nepal, Russia, Thailand, Indonesia, Brazil, Colombia, Venezuela, Argentina, Mexico, Canada, etc. We are winner of 3 times National Award and 2 times International Award for Quality manufacturing.
Standard Features
Aluminum House Foil Slitter Rewinder Machine
Slitting of all types of material like Plastic, Paper, Flexible Packaging, PVC, Aluminum Foil, Stretch Film, LDPE Film, BOPP Film, BOPP Tape, OPP, METPET, Pet Film, OPA, Non-Woven Fabric, Paper Board, Adhesive Tape, Film Ribbon, Textile Cloth, Nylon Fabric, Micro Tape, Coated Paper, Ice Cream Cup Paper, Fax Roll, Laminated Film, Cling Film, Duct Tape, Mask Tape, Rubber, Tarpaulin, Tube, etc. makes us most experienced manufacturer, exporter & supplier of Slitter Rewinder Machine.
9 mts. – 2500 – 3000 Pieces in 10 Hours
18 mts. – 2000 Pieces in 10 Hours
72 mts. – 800 Pieces in 10 Hours
Rewinding of Aluminum Foil / Kitchen Foil
Provided Semi-Automatic Manual Tension Control with 2 Nos. of Surface Roller suitable for Rewinder small core of with precision tight winding and a complete hygienic product.
PLC Controller Unit easy feeding program for length in Auto / Manual cycle to achieve more production
Easy to Rewind the core without use of gum you can simply put the material and rewind the core.
Our machine is an ultimate Slitter and Rewinder Machine for its accurate slitting and rewinding qualities. It ensures perfect slitting of rolls with consistent, flawless results and constant line speed. It is available in adaptable model to suit your requirement. Our Slitter Rewinder Machine is available in Rewinder, Duplex surface slitter and Rewinder and Canti lever differential slitter and Rewinder. Our Slitting Rewinding Machine is renowned for its accurate slitting at a higher speed and vibration less working.
KEW Slitting Rewinding Machine ensures perfect slitting of rolls with consistent flawless quality and constant line speed. It is available in adaptable model to suit your requirement.
Technical Specification
Technical Specification of Aluminum House Foil Slitter Rewinder Machine:
| | | |
| --- | --- | --- |
| Substrate: Foil / Film | : | 9 to 40 Micron |
| Web Width | : | 300 – 600 mm |
| Stock Roll Diameter | : | 600 mm |
| Rewind Roll Diameter Up to | : | 100 mm |
| Rewind Core Diameter | : | 32 & 38 mm Std. (Optional) |
Video
Quick Inquiry